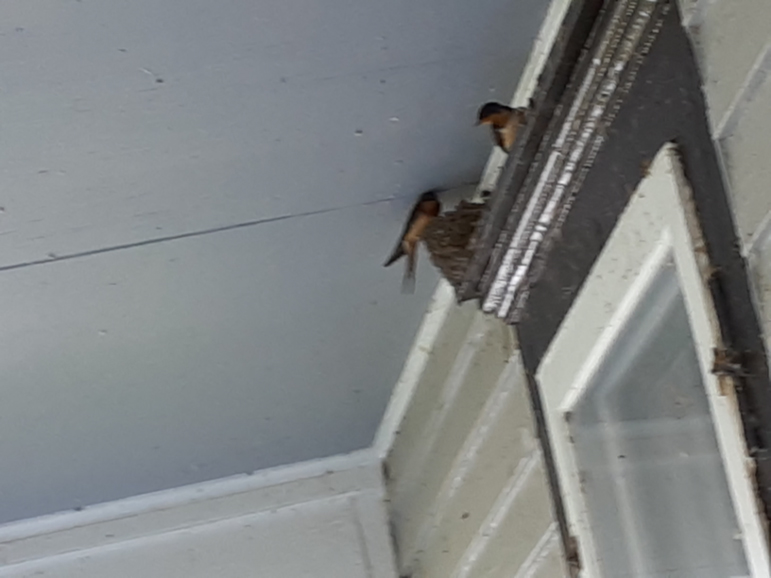 We have a barn swallow nest on the front porch. The newly hatched fledglings can now peek over the nest; one day soon they will take their first flight. They are incredible little creatures that somehow migrate from here in South Dakota to as far away as South America!
The Covid-19 Pandemic remains a global problem. We are standing on tiptoe in anticipation of a vaccine that will eradicate it. In the meantime we are learning how to skirt around its parameters. According to history, this kind of situation is nothing new; however, it is something that none of us have experienced in our lifetime.
Our president was here at Mt. Rushmore to kick off Independence Day. We always appreciate being visited by our country's leaders.
We also appreciate the growing interest in TrailManor travel trailers and all who have been purchasing them. Sales have increased significantly. Our lot is nearly empty and our production crew is working hard to keep up with the demand.
We are enjoying the folks who have come to take tours of the factory, and those who have come in for service work. We love meeting our customers.
Two new dealers have joined our team. DAISY RV in Marble Falls, Texas, and HORN RAPIDS RV in Richland, Washington! Welcome to both!
We are changing the interior of several models to add two comfortable chairs with three separate fold-away tables. ALSO, we are now including a recliner chair as an option for all units.
Congratulations to David (who has been in Service/Parts) for his promotion to the welding section in the factory. And congratulations to Adam who now is heading up the Service/Parts Office.
Trailer Life Magazine recently carried a story that included TrailManor. Here is the link to that story.
This may be a good time to double check the tires on your units. A blowout can cost a lot of time and money! Be safe out there and enjoy these summer days!
Paul Wipf