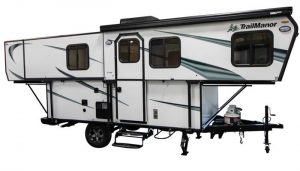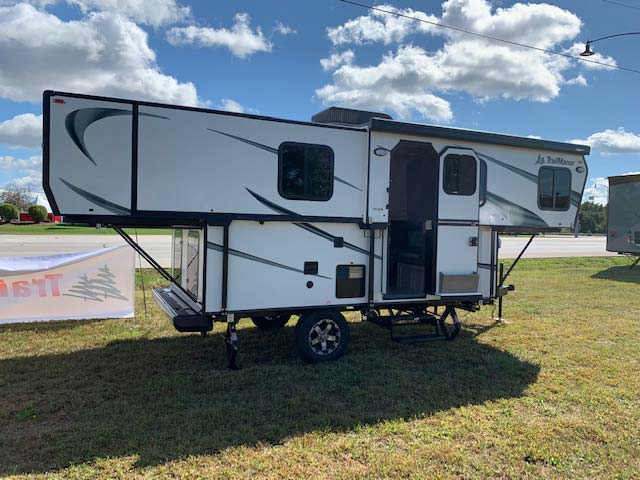 When closed, easily fits in a standard garage (18ft x 20ft)
A Customer Favorite Now Back in Production
The TrailManor 2518 Series is becoming one of our most popular model series for good reason: All of TrailManor's unique benefits shine through in these trailers.
You don't have to have a big tow vehicle–you can tow these trailers with a properly equipped minivan, crossover, or SUV. The 2518 Series trailers store easily in a standard size garage. You can set up these units in just five minutes, and unlike a tent camper, you can even do it in the rain without everything inside getting wet.
Towing is virtually effortless, and it only takes one extra gallon of gas to tow these trailers 100 miles. Being the smallest trailer in our lineup, you have even more options for tow vehicles and storage.
Standard/Optional Equipment
Specifications
| Model 2518 | KB (Bed) | KS (Sofa) | KD (Dinette) |
| --- | --- | --- | --- |
| Equivalent Trailer | 25' | 25' | 25' |
| Towing Length Closed | 18' | 18' | 18' |
| Storage Length Using Swing Hitch | 16' 1" | 16' 1" | 16' 1" |
| Body Length Open | 21'6" | 21'6" | 21'6" |
| Outside Height Closed | 6' 10" | 6' 10" | 6' 10" |
| Outside Height Open | 9' 10" | 9' 10" | 9' 10" |
| Outside Width | 7'11" | 7'11" | 7'11" |
| Interior Headroom | 6'4" | 6'4" | 6'4" |
| Sleeping Capacity | 6 | 4 | 4 |
| Dry Weight (lbs) | 2580 | 2600 | 2600 |
| Tongue Weight (lbs) | 295 | 320 | 320 |
| Load Capacity (lbs) | 2000 | 1980 | 1980 |
| Tires | 15" | 15" | 15" |