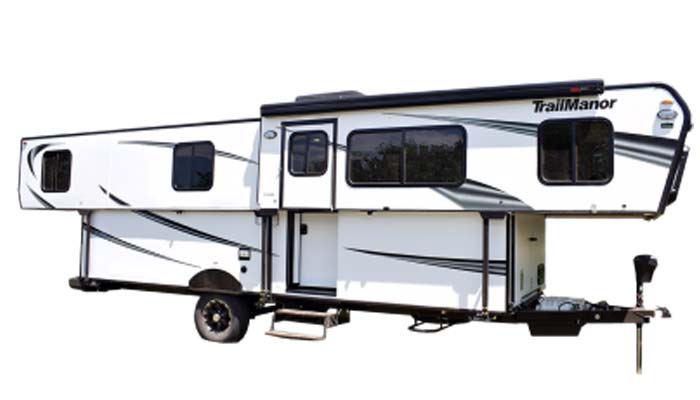 Our Largest, Most Luxurious Trailers.
If you have a big family, or if you just enjoy traveling in style, you'll find a lot to like in our 3124 Series models.
The TrailManor 3124 Series of travel trailers gives you the ultimate in amenities, plus the carefree towing and easy setup of our smaller TrailManor models.
Each 3124 model has a king size bed and plenty of storage in the rear of the unit, plus a hardwall bathroom with shower and tub, a kitchen with three burner store, oven, sink and refrigerator, and lots of living space for relaxing and entertaining. Choose between floorplans that give you options including a front slide out living room with sofa bed, or a slide out dinette.
And like all TrailManors, the 3124 series sets up in just five minutes without having to unhitch, and is light enough to be towed with many smaller tow vehicles.
Standard/Optional Equipment
Specifications
| Model 3124 | KB (Bed) | KS (Sofa) | KD (Dinette) |
| --- | --- | --- | --- |
| Trailer Size Open | 31' | 31' | 31' |
| Towing Length Closed | 24' | 24' | 24' |
| Storage Length Using Swing Hitch | 22' 2" | 22' 2" | 22' 2" |
| Body Length Open | 28'4" | 28'4" | 28'4" |
| Outside Height Closed | 6' 7.5" | 6' 7.5" | 6' 7.5" |
| Outside Height Open | 9' 8" | 9' 8" | 9' 8" |
| Outside Width | 7'11" | 7'11" | 7'11" |
| Interior Headroom | 6'4" | 6'4" | 6'4" |
| Sleeping Capacity | 7 | 4 | 4 |
| Dry Weight (lbs) | 3140 | 3200 | 3200 |
| Tongue Weight (lbs) | 434 | 448 | 490 |
| Load Capacity (lbs) | 1600 | 1520 | 1520 |
| Tires | 15" | 15" | 15" |